22 Aug

Tips On Managing Stress

Summer is nearly over. With fall just around the corner also comes new routines, busier schedules and less physical activity. For some who live in the Pacific Northwest, the shorter days combined with the cooler and wetter weather bring about depression. Parents and students alike feel stressed with juggling work and/or classes, homework, projects and relationships.

Tip #1: Identify and list down the sources of stress in your life.

The way stress affects you may be different from the way your friend or spouse or child or parent is affected so it's important to be aware of your particular signs of stress. The signs fall under 4 categories:

Feelings – anxiety, irritability, fear, moodiness, melancholy, overwhelmed, etc.
Thoughts – self-criticism, constant worrying, repetitive negative thoughts, forgetfulness, difficulty concentrating, disorganized, pessimistic, etc.
Behaviors – not eating or eating too much, increased use of alcohol, drugs or cigarettes, nail biting, fidgeting, pacing, etc.
Physical – low energy, headaches, upset stomach, insomnia, clenched jaw and grinding teeth, etc.

Tip #2: Identify how stress affects you.

There are some thing we can't control – like the climate – but we can control how we manage stress. There are in fact many ways to cope with stress and they can be grouped into 4:
Alone time – listen to music, sit alone in peaceful outdoors, read a book, write poetry, write in a journal, pray, meditate, take a bath, take a nap, rest, and many others
Socialize – go shopping; watch a movie, athletic event, concert or a play; play board or video games; or just spend time with a loved one
Eat healthily (a well-nourished body is better prepared to cope with stress) – stock up on less processed and fresh foods so there's no bad food to reach for when you are stressed; reduce sugar intake; cut back or eliminate alcohol and nicotine.
Move – walk outside, garden, play soccer with your child or a friend, EXERCISE, and others
Tip #3: Identify the positive ways you can manage each source of stress in your life.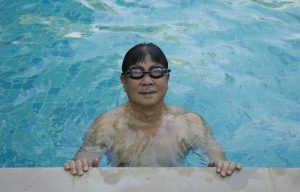 How does aquatic therapy or exercise help manage your stress?
Relaxing. It can be very relaxing when done at a slow pace, gliding through water.
Social. It can be a social opportunity – socialize with the instructor (for 1:1 sessions) or with friends (when you do group aquatic exercises)
Workout. Although aquatic therapy and exercises are low-impact, they can be aerobic and a whole body workout.
According to the Centers for Disease Control and Prevention, "Water-based exercise improves mental health. Swimming can improve mood in both men and women." They go on to say "It can decrease anxiety and exercise therapy in warm water can decrease depression and improve mood."
Tip #4: Try aquatic therapy/exercise. ☺
Reduce your stress this fall by dipping in the water and giving aquatic therapy a try. You won't be disappointed!